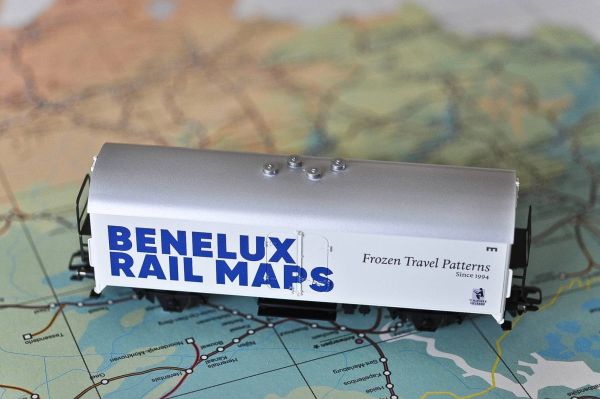 Märklin refrigerator wagon, Benelux Rail 1/87

On the occasion of the 45th anniversary of the Benelux Rail books and railway maps, a special Märklin refrigerator wagon appeared in 2022. A project in collaboration with Märklin importer De Kleine Benelux B.V. This jubilee edition is limited to 400 copies.
Each by Maud van Rossum designed side is printed differently. This collector's item is not part of the Märklin program. Every Benelux Rail car is accompanied by a numbered leaflet in five languages. Available as long as stocks last at you local model railway shop or - if hard to find - directly from us. Please send an email.
Exclusive Märklin refrigerator wagon W045020.006, scale HO (1/87), track width 16.5 mm, length 13.4 cm, aluminum colour roof. Fans and ladders seperately fitted. The couplings in their standardized NEM shafts are interchangeable.

€ 33,00.
Buy it now:
modeltreincenter.nl
treintjeoost.nl
marnan.eu
manufaktur.lu
gve-verlag.de
degroenekrokodil.nl
bol.com
ebay.co.uk
modeltreincentrum.nl
treeblue.nl
onsmagazijn.nl
drukkerijmiddelburg.nl
boekenwereld.com